Yesterday in the Premier League, four teams played 27 match-day games. Let's see how all the games went yesterday.
Bournemouth 1-0 Liverpool
Liverpool's top four suffered a major blow yesterday with a 1-0 defeat to Bournemouth at the Vitality Stadium. The Reds started strongly as Van Dijk's header went off the line, Robertson denied a fine save from Neto and Gakpo's goal was ruled out for offside.
Bournemouth came into the game and took the lead in the 26th minute thanks to a quick counterattack by Billings. The hosts defended strongly in the second half, but Liverpool had a chance to come back when Smith was penalized for a handball in the penalty area. On the other hand, Salah could not return the ball he bet on.
The hosts defended well in the final minutes of the game and maintained their lead until the end.
Leicester City 1-3 Chelsea
Chelsea looked to improve their top-four spot with a win over Leicester City yesterday. The Blues started the game well with Chilwell scoring a good through ball from Koulibaly. However, it was Daka who scored the equalizer for Rogers' side and levelled the score at half-time.
The Blues came back strongly in the second half and took the lead thanks to a deft finish from Havertz before Kovacic hit a home run to extend Chelsea's lead.
Leicester's woes were exacerbated as they went down to 10 men in the final period after Feis was dismissed. The match ended 3-1 and Chelsea took home all three points.
Crystal Palace 0:1 Manchester City
In yesterday's game, 'Crystal Palace' proved to be a formidable opponent for 'Manchester City'. Manchester City dominated possession from the start, but the hosts organized themselves into low blocks that stymied City's attack throughout the first half.
Manchester City's corner from Gundogan in the 18-yard box earned them a penalty, which Haaland expertly converted. Vieira's team attacked little and did not threaten Ederson, who played without saving the game. Manchester City's win narrowed the gap with Arsenal to two points.
Tottenham 3-1 Nottingham Forest
Spurs beat Nottingham Forest 3-1 yesterday to boost their chances of a top-four finish. Richarlison headed past Navas in the fourth minute to give the home side the lead, but his first league goal of the season was ruled out as the VAR readout showed he was offside.
Kane scored with Porro's cross after 15 minutes to break the deadlock. The striker scored the second goal of the game from the penalty spot.
Nottingham Forest started the second half well, but Son's fine finish turned the game around in the 62nd minute. Worrall scored late in the game and could have scored again had Ayew not missed a penalty in the 95th minute.
See all the results from yesterday's matches;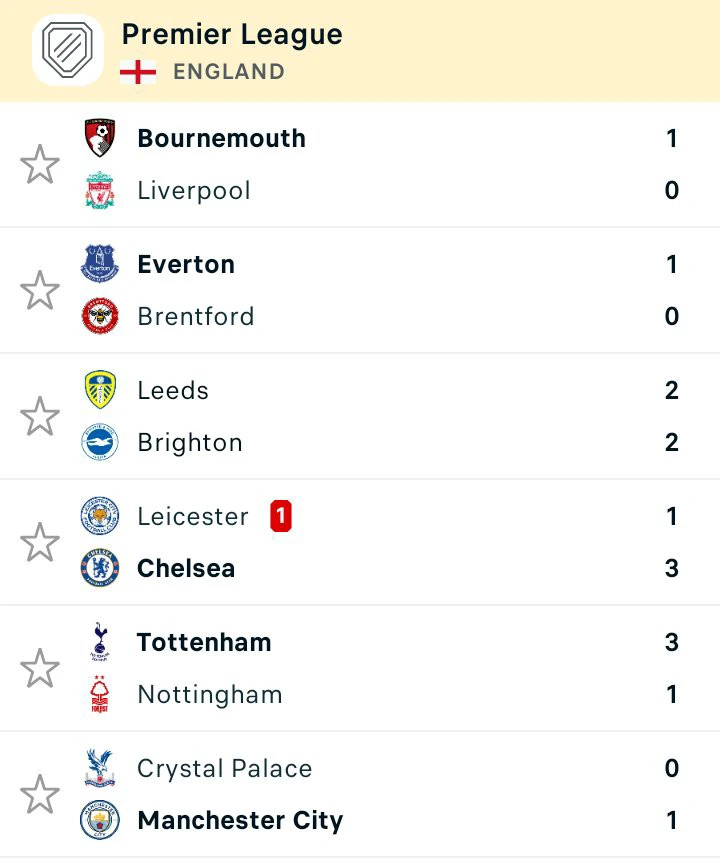 The table after yesterday's results are as follows.